Regular price
Rs. 400.00
Sale price
Rs. 400.00
Unit price
per
Sale
Sold out
Our Lemongrass hydrosol is a versatile product that can be used as an astringent toner for oily skin and scalp, a refreshing mist for the scalp after a workout, and a natural deodorant spray for underarms.
Share
View full details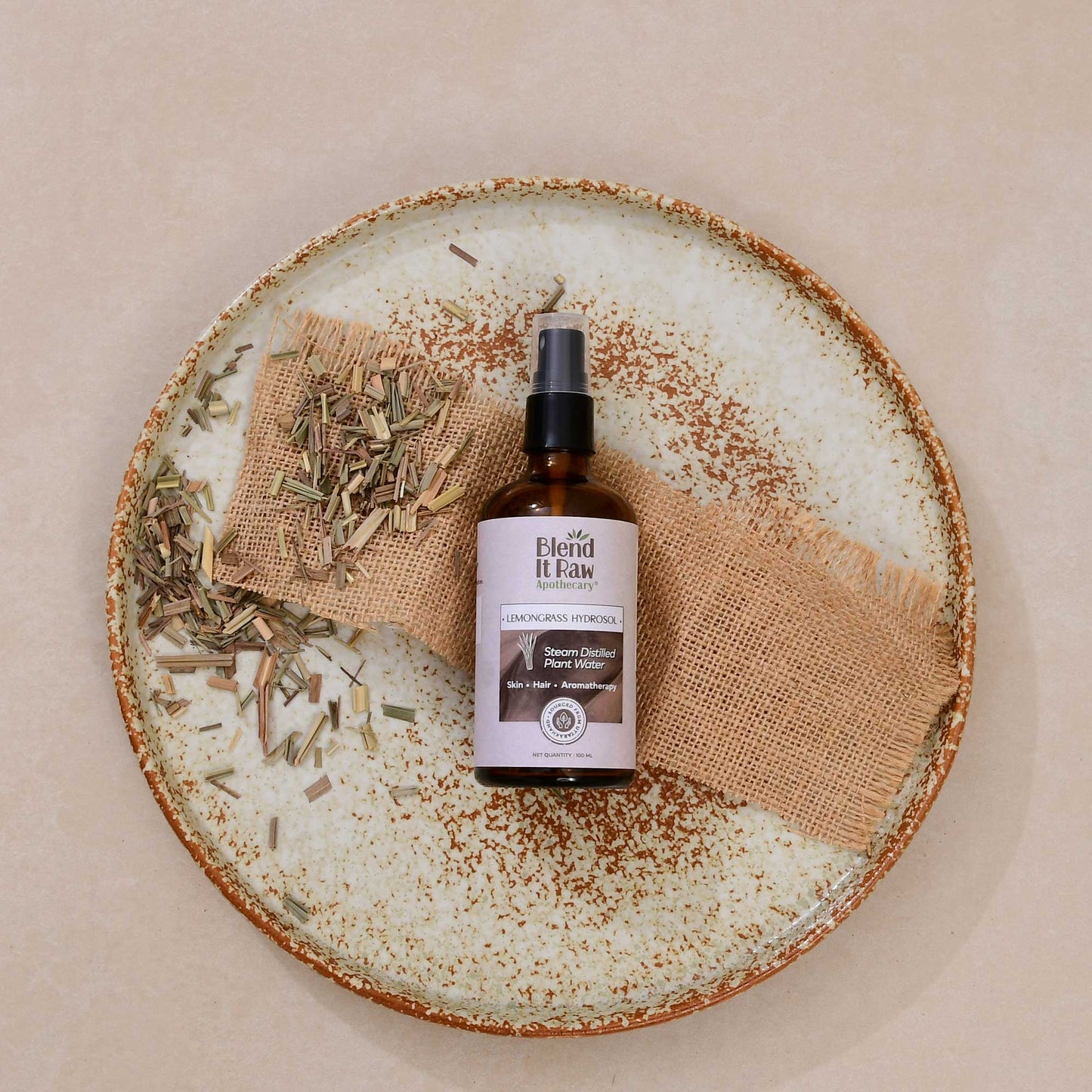 Quantity: 100 ml
Our Lemongrass hydrosol is steam distilled using fresh organic Lemongrass grown in our farm in Uttarakhand.
Astringent Toner:

Lemongrass hydrosol is antibacterial in nature. It's good for controlling oil production, acne and fighting itchy skin and scalp conditions. Lemongrass keeps skin clean, while also inhibiting the growth of bacteria, making it great for fighting acne. It tones and balances the pH of skin, leaving it clean and bright.
Post workout refreshing scalp mist: Lemongrass hydrosol absorbs excess oil/sweat/ grease. Spray it on your scalp after workout for instant scalp refresh.
Natural Deodorant Spray:

Lemongrass holds an 'uplifting' and pleasing smell that brings together an earthy lemon scent with just a tiny hint of floral-ish notes. Spray it on your skin and hair after a shower as a natural perfume.It can also be used to make a deodorant spray for the summer. This steam distilled water is well suited as a natural fragrance or after shave mist.
Spray on a tissue and use as a refreshing wipe. Lemongrass has a soothing effect and can thus be used to purify the air. Making a homemade bug spray? Lemongrass Hydrosol is the perfect base!
Two things that make us unique: Firstly, we source our ingredients directly from farmers in India to ensure top quality, unlike other brands that simply claim to use "farm-sourced" ingredients. Secondly, we go beyond just selling products by providing a platform for safe and effective DIY beauty and wellness solutions. Our founder, a certified formulator and aromatherapist, carefully creates each recipe and shares her expertise with customers, empowering them to take charge of their own self-care.