Regular price
Rs. 550.00
Sale price
Rs. 550.00
Unit price
per
Sale
Sold out
Wood Pressed
Grounding Aroma
Body Oil
Wood pressed Apricot Oil from Blend It Raw Apothecary is a multi-purpose oil with a divine aroma.
It is a body oil provided to us by nature. Silky texture, quick absorbing, highly nourishing with grounding aroma.
It is rich in skin-friendly fats, fights acne and inflammation while locking in moisture. It's also a great massage oil for adults and kids, and nourishes the scalp and makes hair soft without weighing it down.
Share
View full details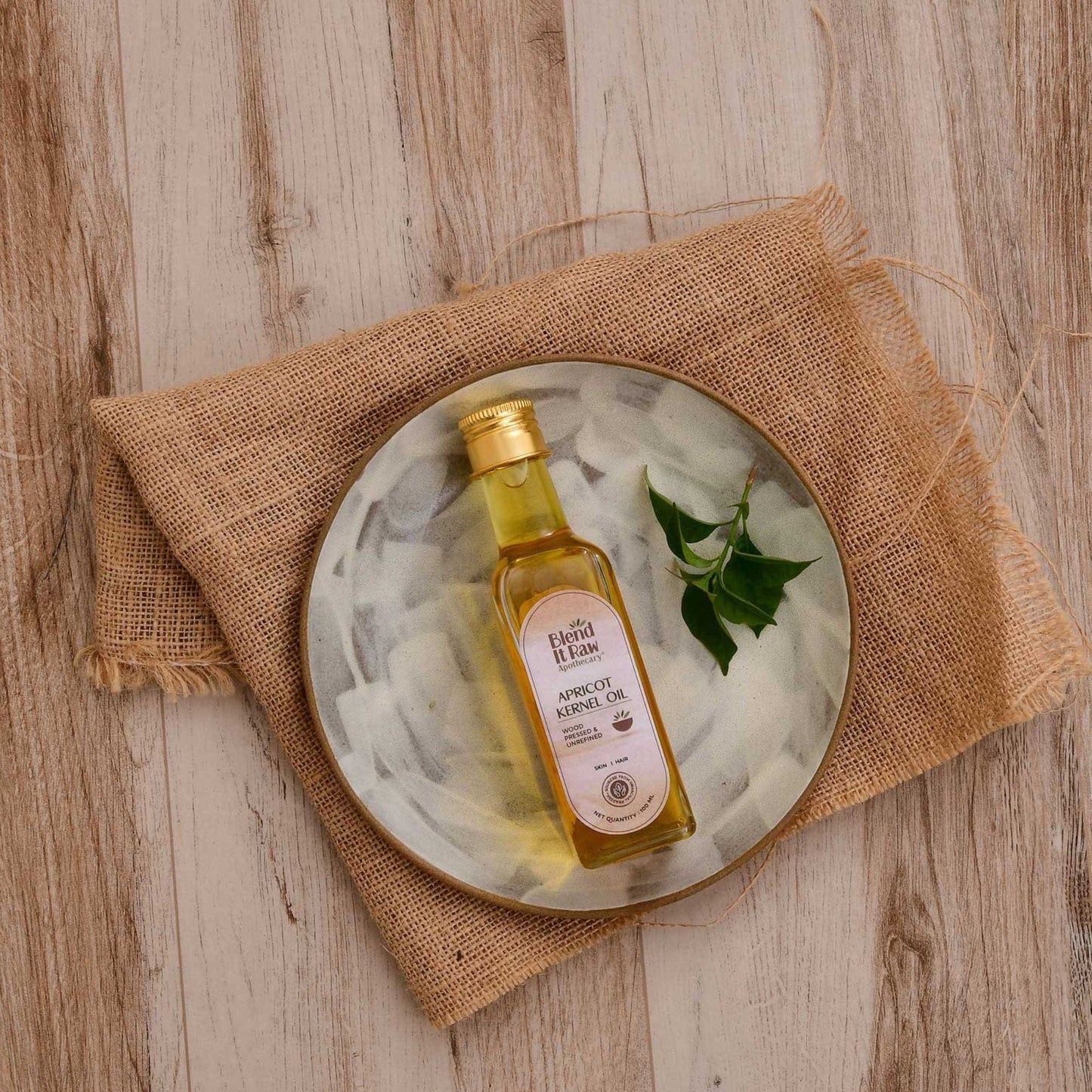 Quantity: 100ml
Wood pressed traditionally using kernels of Apricots sourced from a small hamlet in Uttarakhand, Apricot Oil (Gutti Ka Tel) by Blend It Raw Apothecary smells divine & works great for both skin and hair. It is a great multipurpose oil for everyone at home, including babies.
Gutti Ka Tel benefits for skin: Apricot Oil's fine texture allows more rapid skin penetration, which promotes more prompt healing and nourishment of sore or chapped skin without residue. This oil is rich in oleic, linoleic and linolenic acids which are skin friendly fats that fight off acne, inflammation, and dryness while locking in moisture. Use it as a facial oil for all skin types.
Apricot Oil as massage oil (even for babies): Having a silky texture, gutti ka tel works amazing as a body massage oil for adults and kids.
Gutti Ka Tel benefits for hair: Apricot Oil acts as an emollient and is a light oil which makes it easy to wash out and it doesn't weigh down thin hair. Apricot seed oil nourishes scalp and makes hair soft. Massage your hair with warm gutti tel and then wash off your hair after some time with a mild shampoo. If you have weak, dry and dull hair strands and dandruff issues, then you should definitely try this oil as it helps to strengthen and improve hair quality.
Two things that make us unique: Firstly, we source our ingredients directly from farmers in India to ensure top quality, unlike other brands that simply claim to use "farm-sourced" ingredients. Secondly, we go beyond just selling products by providing a platform for safe and effective DIY beauty and wellness solutions. Our founder, a certified formulator and aromatherapist, carefully creates each recipe and shares her expertise with customers, empowering them to take charge of their own self-care.